What if you could make a burger better – better tasting, and better for the environment? That's what Salt & Char is doing as they partner up with the James Beard Foundation's Blended Burger Project. You can get a taste of what they're up to with the Wagyu of the Woods Burger, available at the Saratoga restaurant for a limited time.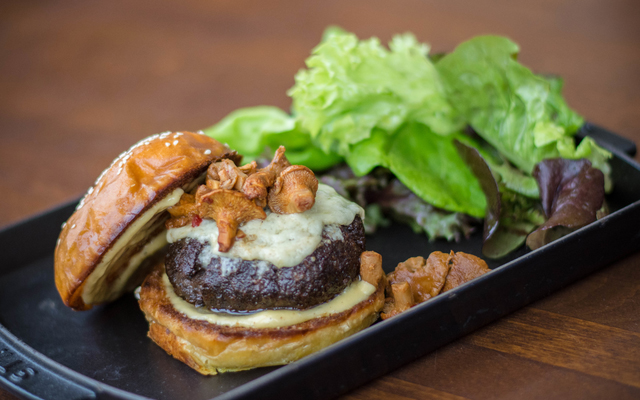 Wagyu of the Woods Burger
The Wagyu of the Woods burger is available for $36 at Salt & Char through July 31st. The burger consists of an American Wagyu beef and hen of the wood mushroom patty, roasted garlic aioli, pickled chanterelle mushrooms, and aged cheddar cheese on a brioche bun. The burger is the creation of Chef Braden Reardon, and Salt & Char has passed the recipe along to us!
Recipe
4.5oz Wagyu grind
1.5oz steamed Hen of the Woods mushroom
1.5oz garlic aioli
1oz pickled chanterelles
2oz Josper Hill aged cheddar
Mushrooms
In a steaming basket, place washed and dried mushrooms. Bring the pot to a boil with peppercorns, garlic cloves, bay leaves, and thyme. Steam for 10 minutes and chill. This can be done 1 – 2 days in advance. Finely chop chilled mushrooms and mix with Wagyu grind.
Roasted Garlic Aioli
Separate egg yolks and place in food processor with lemon juice and roasted garlic cloves. Puree until well blended and then slowly stream in blend oil until thick ribbons form. Chill and reserve for burger.
Pickled Chanterelles
Toast the pickling spice in a sauté pan until aromatics develop. In a separate pot combine salt, sugar, thyme, garlic, vinegars, and 16oz cold water. Bring to a boil and add toasted pickling spice and simmer for 10 minutes. Strain through a fine mesh and pour over the chanterelles. Reserve until needed. Recommended to pickle up to a day in advance.
About The Blended Burger Project
The Blended Burger Project is a challenge to create a better burger by blending ground meat with chopped mushrooms. The idea is to produce a burger that is not only better tasting and more nutritious for you than an average American burger, but is also more sustainable for the planet. The burger must be at least 25% fresh and chopped cultivated mushrooms.
Diners can vote on their favorite blended burger online at jamesbeard.org/blendedburgerproject. When the program ends on July 31st the five chefs with the most online votes will win a trip to the historic James Beard House in New York City where they will be able to showcase their blended burgers at an exclusive event.
The project is organized by the James Beard Foundation, a New York City-based nonprofit culinary arts organization. The group works to celebrate, nurture, and honor chefs and other leaders making America's food culture more delicious, diverse, and sustainable.