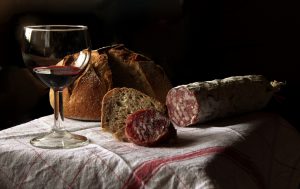 Bread, glorious bread! For the fortunate percentage of the population who are not gluten-free, bread is one of the most beloved carbohydrates. Whether you're sinking your teeth into a crusty baguette from that French bakery down the street or slapping some PB&J on a slice from the supermarket, there's nothing quite like bread. Which probably explains why there are so many different kinds of bread.
Hear me out. When we find something we like – whether it's a food or a certain catchy chord progression (we're looking at you Pachelbel) – we find every possible variation of that thing. How many different chocolate candies have you had in your lifetime? What about pies? Read any post-apocalyptic teen novels lately?
Humans love bread. LOVE it. So we have almost infinite variations, all of which are pretty darn great. But when you go to a restaurant, how do you know which type of bread to order? Well, any bread is going to delicious, but perhaps – under certain very special circumstances – one bread might be better than another. Maybe.
What You Need to Know About Different Types of Bread
There are thousands of different types of bread, but a few have become very popular over the last few years. We are going to focus on the most popular types of bread in American restaurants in 2017, but this list is by no means exhaustive and does not mean that there aren't other, better types of bread to be had.
Baguette
The baguette is a long loaf of French bread with a very crusty outside and delicate, fluffy inside. The baguette is versatile and often used for sandwiches (sliced long-ways) or as the base for canapés and other appetizers. It might be almost sacrilegious to use baguette as a base for bruschetta, but I really cannot say enough good things about toasted baguette slices topped with diced tomatoes, onion, basil, olive oil, and a little Parmesan cheese.
Bánh Mì
You've probably heard of bánh mì and think of the term as encompassing a whole sandwich, but bánh mì is actually also what you call the Vietnamese baguette used to make bánh mì sandwiches. Bánh mì is made with both rice and wheat flour and is usually not quite as crusty as a French baguette. Bánh mì sandwiches typically include tofu or meat and pickled vegetables.
Biscuit
In the US, a biscuit is a fluffy, buttery delight made with baking soda or baking powder instead of yeast. Generally biscuits are associated with the South and go great with butter and jam (or sausage gravy for breakfast).
Brioche
Brioche is a flaky, sweet roll or loaf made with egg, yeast, and butter then glazed with an egg wash. Brioche is typically either a breakfast bread (it makes fabulous French toast) or dessert bread.
Ciabatta Bread/Rolls
Ciabatta is an Italian wheat bread characterized by a light, airy dough. Ciabatta rolls have become all the rage on menus, especially for hot veggie sandwiches. I like ciabatta, but I feel the need to caution you, dear reader, that this bread does not hold up well and can be messy to eat as a sandwich (or use as a conduit for bruschetta, see: baguette).
Crostini
Crostini are literally just little toasts used for spreads or as bases for appetizers. Crositini might be made out of pretty much any bread, though day-old baguettes are a popular option.
Focaccia
Focaccia is an Italian bread brushed with olive oil before baking. Focaccia uses yeast, but is not kneaded before baking and is usually fairly flat. Focaccia is often topped with herbs, cheese, or even toppings like onion, roasted red peppers, tomatoes, mushrooms, and prosciutto.
Naan
Naan is a middle eastern, yeast-dough flatbread that's similar to pita. Baked in a tandoor oven (clay), naan is different from roti, which is cooked on a griddle. Naan is most popular in Indian restaurants in the States and makes a great addition to most any saucy meal.
Pupusa
This stuffed corn tortilla from El Salvador is gaining popularity in the US. Filled with everything from meats to vegetables, to cheeses, the pupusa is a popular snack that's usually served with a side of curtido (vinegar-based, spicy cabbage slaw).
Sourdough
Sourdough might just be my favorite bread. A bit tangy, sourdough bread is made from a starter that can live for generations. Sourdough uses the lactic-acid-producing bacteria lactobacillus to ferment the yeast and grow the starter. Some speculate that sourdough bread may be easier to eat for people with gluten sensitivities.
Spelt
I've heard spelt a lot since the throw-back diets came into fashion. Spelt is also known as farro and is related to wheat. Used by ancient Romans and Bronze-age Europeans, spelt has a nutty flavor and slightly more protein than wheat.
Sweetbreads
Sweetbreads are not bread and should not be confused with sweet bread (which is used to make delicious pastries like cinnamon rolls). Sweetbreads are organ meat from the thymus and pancreas. My father swears they're delicious. You have been warned.
Tortilla
We're all pretty familiar with tortillas, but they deserve mentioning because corn tortillas and wheat tortillas are very different. Most of us are familiar with the wheat tortillas we used to get at ChiChi's or Chili's in our youth. But fresh corn tortillas are a whole other ball game. Slightly sweet and made from ground maize, corn tortillas are a little chewier and a great, gluten-free alternative for taco night.