Pairing beer with your food can be as simple or as complicated as you'd like to make it, but the truth is: beer goes great with food, so don't be afraid to try out different and even funky combinations!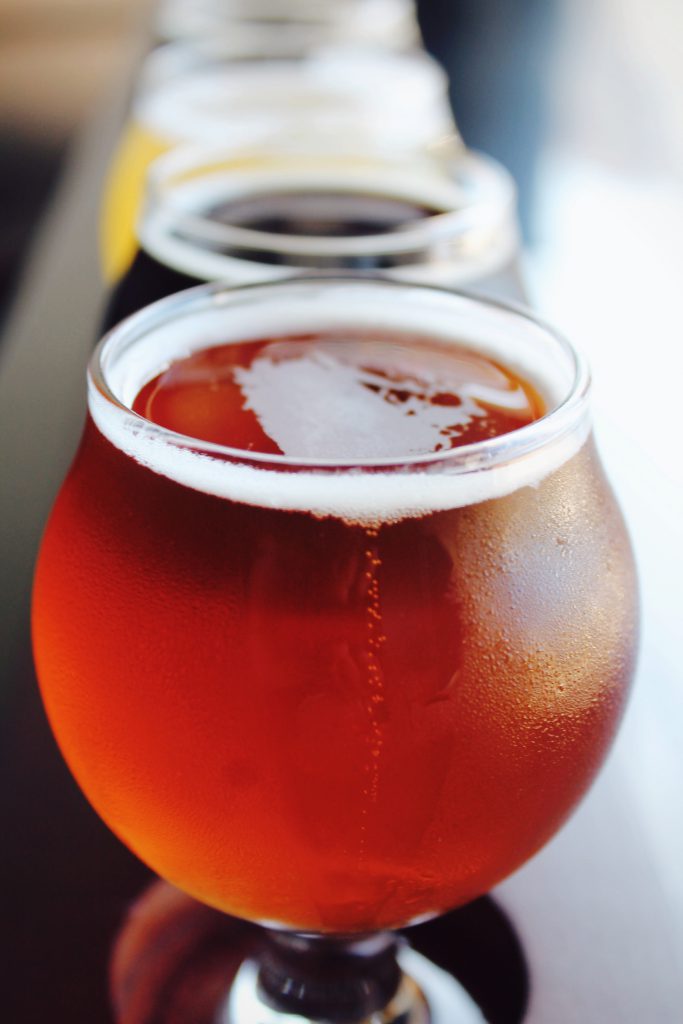 Just like with wine, instructions for how to pair beer are going to differ greatly from expert to expert. Generally, though, when we talk about pairing food and beverage, we start with contrasting and complementary flavors. Some people prefer their beverage to contrast with their food while others want the flavors to echo or complement each other. Which method you prefer is going to depend entirely on your palate and is largely the result of trial and error.
If complementing your food and beer pairing means choosing like flavors, then pairing a rich, malty beer like a Belgian Dubbel with hearty, beef Carbonnade is a great example of complementary pairing. If, however, you wanted to get a little interesting with your pairing, you could contrast this sweet and sour beef stew with a Saison. The fruity and spicy Saison generally has a dry finish that provides a nice contrast to the richness of the Carbonnade. Neither pairing is inherently better and which one you prefer is 100% personal preference.  
The best way to get started is to ask questions, be willing to try something new, and to not be afraid to order another beer if you didn't like the first one.
But before you start peppering your waiter with questions about the draft list, we've rounded up a few of the usual suspects, their characteristics, and recommended pairings.
What food to pair with…
Ale
A staple of British pubs for centuries, ales can vary greatly in color and taste. Scottish Ale, for example, is usually dark caramel in color with the same smoky notes that made the country famous for its whisky. Ale is a beer for sitting at the pub and watching sports or moaning about your wife. Our recommended pairing: stick with traditional pub fare, like fish and chips, poutine, or shepherd's pie when you pair this beer.
Amber /Red Ale
Among the most drinkable beers, Ambers are usually well-balanced with toasty malts and light fruits. Though the levels of hops may vary, most Ambers are fairly light on the hops. Our recommended pairing: this medium-bodied beer is good with just about anything, though fans of Killian's Irish Red might steer you toward the corned beef and cabbage.
Bock
Stronger than a typical lager, Bock is dark amber to brown in color and has robust malts. Most Bocks are only lightly hopped, so this beer provides a nice contrast to sharp foods like cheddar. Our recommended pairing: has to be the German staple of pork and sauerkraut. The vinegar in the kraut is the perfect contrast to the malts in the Bock.
India Pale Ale (IPA)
This hoppy beer originated in the UK as an export to members of the East India Company. It was too hot to brew beer in India, so British brewers needed to come up with an export that could survive the six-month voyage. Very hoppy, this light-colored ale is often bitter in taste and, fortuitously, pairs well with spicy foods. Our recommended pairing: spicy curry or hot tacos.
Lager
Lagers are your standard summer beer. Bright, crisp, and refreshing, Lagers are light in color and usually fairly balanced in terms of hops and malt. There are many different types of lager, ranging from the pale straw tones of a Czech Pilsner to golden hues of a Munich Helles to the deep browns of a Dunkel. Our recommended pairing: summer barbecue fare like hot dogs, bratwurst, hamburgers, and potato salad are excellent with Lager, but you might want to eschew the Chianti next time you're having Italian and ask for a cold one instead!
Porter
Dark and sometimes barrel-aged, porters are rich, smoky, and often taste just a little burnt (in a totally good way, I promise). I generally tend to gravitate towards porters in the cold winter months when I want my beer to have a little more substance. Our recommended pairing: staple comfort foods like hearty soups and stews that won't compete for your attention pair well with this dark beer, as do smoked and roasted flavors like ham and bacon.
Saison
If you've had one Saison you have definitely not had them all. Traditionally brewed with whatever ingredients are were on hand, the color alone is nearly impossible to pin down: Saisons range from nearly colorless to almost black. There are a few universal characteristics, though, like notes of spice and fruit with a dry finish. Our recommended pairing: the traditional pairing for Saison would be seafood, particularly shellfish, but I'm actually going to recommend you pair this delightfully cheeky beer with a juicy grilled steak.
Sour
Sours may not show up on most traditional beer lists, but they are quickly gaining popularity, especially among craft brewers and the hipsters who love them. Sour beers are usually cloudy in appearance and, you guessed it, will make your mouth pucker when you take a sip. If you're not a fan of the bitterness hops impart but are still looking for a funky beer, put a Sour at the top of your list. Our recommended pairing: is contrast, contrast, contrast. You are either going to need something sweet like pie or spicy like chili to stand up to a Sour beer.
Stouts
Traditionally stouts are a dark, bitter beer with coffee and chocolate notes (much like a porter). Recently sweeter, creamier stouts have been popular with fruit and nut overtones blurring the line between stout and porter. Our recommended pairing: ice cream and brownies.
Wheat Beer (Hefeweizen)
Hefeweizen is a light, unfiltered beer that pairs with like foods. With almost no bitterness, wheat beers are a refreshing alternative to the slightly heavier and more bitter Lager. Our recommended pairing: salads, mild seafood, or (if you want to be traditionally Bavarian) weisswurst and pretzels for breakfast.