You're finally ready to spring for a nice evening out at a top-tier restaurant. Maybe it's an anniversary, or you're celebrating a promotion at work, or you're simply enjoying the holidays with loved ones  – regardless, you're taking the plunge and allowing yourself to savor a high-class dining experience.
If you're nervous about making sure you know your fancy restaurant etiquette, we can help you out right here with tips on navigating the place setting, choosing the wine, and knowing the correct temperature to order your meat.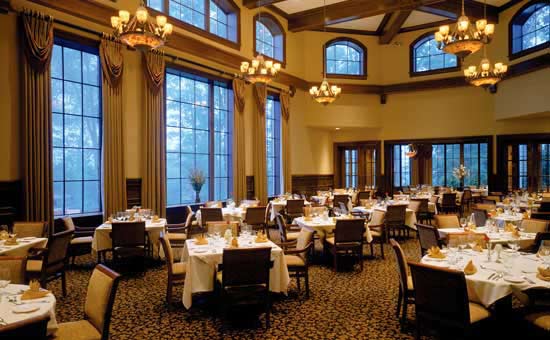 Place Settings & Silverware
Here's what all the silverware at your place setting is for, according to Emily Post:
From closest to the plate outward: salad fork, dinner fork, fish fork (if there's a fish course)
From closest to the plate outward: dinner knife, fish knife, soup or fruit spoon
There could also be a salad knife, which would be directly next to the dinner plate
There could also be an oyster fork, which would go to the right of the spoon, on the end
A butter knife will be placed directly on the butter plate to the side of the dinner plate
If there are more than three courses being served then utensils for the fourth course are brought in with the food.
The dessert fork and spoon will be brought in with the dessert course and placed above the plate.
Ordering the Wine
Ordering wine in a restaurant can be stressful – you want to look like you know what you're doing in front of your fellow diners!
Even though you'll typically choose your wine before your entree, if you can, keep in mind what you'll be eating so you can better pair it with the wine. Don't stress out too much about this aspect, though – it's more important that you get a wine you like than that it pairs perfectly with the food.
Wine lists are typically divided up by the type of wine, or the region, usually going from the least expensive to the most expensive. Then, there's the house wine, which some advise to never order when in the US – it will be cheapest and can often be less than pleasant. Unless you're very familiar with the restaurant you're at, you might want to steer clear just in case. However, don't be afraid to order the cheapest (non-house) wine on the menu.
Before landing on a particular wine, survey the table to see if everyone wants individual glasses or if the table is going to share a bottle. Bottles are typically the more economical choice, but if everyone has vastly different tastes you may need to opt for glasses.
When the waiter comes with the wine list, don't be afraid to ask for advice, but give him some guidance on what you're looking for. Red or white? Do you prefer fruity or more earthy wines? Smooth, or something with a bite?
To be tactful about not breaking the budget, point to a wine on the list that has a price you're looking for and ask for "something in this range."
When the waiter returns with the wine for you to sample, he'll present the cork to you – don't sniff it! This is a classic rookie mistake. The cork is being offered so you can see that it's wet – which means the bottle was stored correctly – and to show you the printing on the cork matches what's on the bottle.
The waiter will pour a bit of wine into your glass – swirl it a few times, sniff it, and then taste it.
Once that cork is popped, you're pretty much committed to that bottle unless it's actually tainted, which would be highly unusual. If you pick up smells of a dank basement or if the cork is dry, these would be signs that you'd need to send the bottle back.
Proper Food Temperature
How do you know to what temperature you should be ordering steak or other meat? Is it acceptable to send the dish back if it's not to your liking? Unless a serious mistake has been made, you should stick with what you ordered. Here's how to order the right temperature in the first place.
Although guidelines for rare to well-done will vary slightly from restaurant to restaurant, generally it should be as follows for steak and beef:
Rare: a bright red center
Medium-rare: center will be reddish-pink
Medium: large band of pink in the middle, but primarily a brownish color throughout
Medium-well: just a slight hint of pink in the middle, otherwise cooked through and firm
Well-done: no pink at all, with the outside charred
Most steak enthusiasts will tell you medium-rare is the best temperature. The more cooked it is, the drier the meat can be. If you really dislike having any pink or red, go for the medium-well. If you do decide to opt for well-done, be aware that it's going to take longer to cook, and thus, get to your table.
If you're concerned about your meat being undercooked, you could always go one temperature above what you otherwise would – for example, order medium-well instead of medium.
What if you're not ordering steak or beef? What if it's game meat, which many upper scale restaurants may offer? Game meat includes meats like venison, bison, rabbit, or duck.
Fortunately, you won't have to worry about how to order game meat, because it typically comes as is – which tends to be more on the rare side. Game meat can't hold up as well to higher temperatures while staying juicy.
It should also be mentioned, game meat found in a restaurant is likely to still be from animals that were farm-raised, and not wild game, in which case it won't be quite as lean as it otherwise would be.
Either way, you won't have to worry about what temperature to order it at, and if you have any concerns or questions you can simply ask your waiter.
From the moment you sit down at the table, to when you order your wine and food, you can be confident that you can handle the evening smoothly – and correctly order what you want to drink and eat!
Find a great restaurant in Saratoga >>
Sources:
Emily Post: The Formal Place Setting
Huffington Post: How to Order Wine at a Restaurant: Avoid Embarrassment, Save Money, and Pick Something Divine
Recipe 4 Living: Well-Done, Medium-Rare, Rare…What Do They Mean? Explanations and a Quick Tip for Cooking Your Meat
Wine Weekly: How to Order Wine in a Restaurant